There are books you enjoy in the moment before moving on to the next, and then there are books that linger long after you've turned the last page. Books that you find your subconscious drifting to in that brief period between sleep and awake. Books that haunt like a fever dream. In the days that follow, you mull over the book in every idle moment; while steeping tea as the first rays of dawn spill through your window, or waiting at a stoplight with only the quiet hum of the car engine to accompany your thoughts. That book was Jade Legacy for me. It's the kind of story that takes up residence in the very marrow of your bones.
I'm not sure how I could possibly express all the emotions that this book, this series, bled from me, but I will certainly try. Fonda Lee delivered an absolutely brilliant conclusion that solidified The Green Bones Saga as my all-time favorite fantasy series. The first part of this review is my general, overarching thoughts on Jade Legacy and series as a whole, and the second part, which I prelude with 'SPOILERS BELOW', is a deeper delve into specific events and characters arcs (aka rambling streams of consciousness about my favorite characters and what tore my heart out).
New to the series? Find my spoiler-free review of the first book, Jade City, here.
Synopsis: Jade, the mysterious and magical substance once exclusive to the Green Bone warriors of Kekon, is now known and coveted throughout the world. Everyone wants access to the supernatural abilities it provides, from traditional forces such as governments, mercenaries, and criminal kingpins, to modern players, including doctors, athletes, and movie studios. As the struggle over the control of jade grows ever larger and more deadly, the Kaul family, and the ancient ways of the Kekonese Green Bones, will never be the same.

The Kauls have been battered by war and tragedy. They are plagued by resentments and old wounds as their adversaries are on the ascent and their country is riven by dangerous factions and foreign interference that could destroy the Green Bone way of life altogether. As a new generation arises, the clan's growing empire is in danger of coming apart.

The clan must discern allies from enemies, set aside aside bloody rivalries, and make terrible sacrifices… but even the unbreakable bonds of blood and loyalty may not be enough to ensure the survival of the Green Bone clans and the nation they are sworn to protect.
---
It's been two weeks since the release of Jade Legacy, and I still haven't recovered from the existential despair that comes with finishing a series you love so dearly. I've read the ARC (biggest thank you to Orbit Books for sending me a copy after all my pleading), listened to the audiobook (Andrew Kishino is such a phenomenal narrator–I can't recommend the audiobooks enough), and started my third reread. I finally feel somewhat composed enough to sit down and write a review.
The first word that comes to mind when I think of Jade Legacy is pain. The second word is masterpiece.
I teared up several times reading this book—but like I've always said, my favorite books tend to hurt. It's impressive when an author is capable of moving me to tears. Of the 600+ books I've read in my life, less than a handful have made me cry. Fonda Lee dragged me through the five stages of grief, but the fifth stage wasn't acceptance for me. It was a domestic fluff AU where everyone was together and happy. Coping mechanisms aside, 713 pages flew by in a blink of an eye and after turning the final page, I can say without a doubt that The Green Bone Saga is one of the greatest works of modern fantasy.
The sheer scope of this book was incredible, spanning over two decades of our beloved characters' tragedies and triumphs, the legacy left behind, and the next generation carrying the jade forward. Time skips can be a hit or miss, but Lee made it flow so seamlessly that it felt natural. The years bled into each other, the passage of time flowing so intrinsically: snapshots of everyone's lives; critical moments, quiet moments, gut-wrenching moments. We got to see the development of the clan, the evolution of the characters, and how the world changed around them.
I was blown away by how ambitious the plot and world-building was. As this book focused on expansion and progression, the intricate economics and international-scale politics was so well written that it felt like I lived through a piece of monumental history myself and looked back upon No Peak's growing pains as an old war veteran. Lee struck the perfect balance of a plot-driven and character-driven story. I was entirely invested in how the Kauls developed through the series, the nuanced family dynamics, the high emotional stakes, the intergenerational blood feud, the proxy war, the political intrigue, and everything in between.
Jade Legacy deserves the highest praises for the exceptional storytelling, for the visceral emotions evoked from the adept writing craftsmanship–I savored every single page, every single moment. Despite the pain and sheer grief this book put me through, there was a sense of closure in the ending, and it just felt right.
It's too bittersweet to say a final goodbye to this vibrant world and its unforgettable cast of characters, so I'll just say see you later. Whenever I miss the Kaul family, I'll start over again on the first book and relive all the emotions, and just maybe write that AU to give them a softer, in-another-life ending.
Now we're moving into spoiler territory so if you haven't read the book yet, come back after you've finished and share your thoughts with me!
---
SPOILERS BELOW
Let's start with my favorite bastard, Kaul Hiloshudon, Pillar of the No Peak Clan. I've been in love with Hilo since the very first book, Jade City, when he was a charming, ever-grinning, arrogant, hot-headed Horn fiercely loyal to his family and clan. His "heaven help me, Shae, I'm going to kill them all" line was so iconic. Those were…simpler times, you could say. Through the years he's had both negative and positive development, which made him feel like a fully-realized, multifaceted character with genuine depth.
In Jade Legacy we see him even more as a deeply flawed, morally grey character who sometimes made questionable decisions. A leader too stubborn and set in his antiquated views of jade and the world progressing around him. But that gradually changed. He had a remarkable character arc, even just in the span of Jade Legacy–from his cold cruelty in the beginning to his final breaths with his family at the end. He was "a man as dramatic in death as he had been in life."
While Hilo juggled many hats throughout the series, I'm most fond of his relationship with Wen (aside from the first quarter of this book, which I wanted truly wanted to waterboard him), and his fatherhood–essentially, the softer side of him. There's just something so tender about Hilo when he's with Wen and the kids, knowing the ruthless violence he's capable of. The fact that he insisted on going home to see Wen when he was dying? I was in shambles.
"She was the softest and most vulnerable creature; she was the strongest and most unyielding of his warriors."
Wen follows very closely behind Hilo as my second favorite character. I wasn't quite sure what to expect from her in the first book, but she has come such a long way. I loved what she represented as a woman; how you could be powerful without physical or magical capabilities. She was empathetic and smart, and influence was her realm of power. Her duels were with words and strategy and smiles. Wen and Hilo fit together like the last two puzzle pieces. One of my favorite fictional power couples.
Yes, I will admit that when their relationship took a nosedive and basically crashed and exploded, I was all aboard the Hilo-hate train and rooted for a divorce. But they made it through it all, together, through thick and thin. They persevered.
"The clan is my blood," she whispered, her voice thick with emotion, but perfectly steady. She bowed her head and pressed her mouth to the hollow of his throat. "And the Pillar is its master."
And let's be honest, all of the Kaul siblings had messy relationships. Staring at Lan and Shae. I felt bad that Woon left his wife (who had multiple miscarriages) for Shae, but like the man said himself:
"It's no use," he murmured, his voice muffled beside her. "I can't help that I'm in love with you."
This was the line that sealed the deal for me. How could I not love him after this?
"It hasn't ever been easy, and there were times I was afraid I'd fail you—but if I had to do it all over again, I wouldn't hesitate. The clan is my blood, but for me, the Weather Man is its master."
Now let's get to the heavy hitters. I went into Jade Legacy fully expecting Hilo to die. After everything that had happened, I just couldn't see any other outcome for him. It still hurt a lot, but his death was the one I got the most closure from. There were two other deaths that made me cry in varying degrees.
The first death I didn't even expect to hit so hard: Maik Tar. His arc in this book felt like a pure tragedy. Losing control and killing his fiancé, getting exiled for years but holding on to the faintest hope that he'd be able to return to his clan one day, completing one final task to help Anden and Hilo, and then taking his own life. Am I allowed to pity him despite the severity of his actions that lead to the consequences?
"Earlier that day, he'd walked around the prison yard in apparently good spirits, having nearly fully recovered from his injuries. He'd eaten dinner and joked with the guards and not been considered a suicide risk."
He did deserve to die, but it was the happy mask that he donned after doing all he could for his clan, despite being his best friend's honed weapon for years, despite his broken spirit, despite knowing that he'd never be able to return to everything he loved. I've heard of far too many stories of people with depression going out like that; with a seemingly happy mask, so it hit a little close to home. Some silent tears were shed.
The next death was Ru, Hilo and Wen's son. This was what absolutely destroyed me. A few days after I finished my first read of the book, I was driving home when I thought about Ru's death, and the tears were uncontrollable. Words cannot describe how much Ru's death hurt me.
Bold of me to assume I'd get through this review without crying! I just know I'll tear up every time I see those words. All he had been was Hilo's son. I loved all of the kids, but Ru was special. We got to know Ru the best; his hopes and dreams, his love for his family. He was a brash and passionate kid; determined, much like his own father. What hurt the most was Hilo's relief in the beginning that Ru was a stone-eye because that meant at least one of his children would have a simpler, safer life. And in the end, Ru was the only one that died. Lee is so cruel.
But I get it. Ru's death was a major driving force in Hilo's character arc (Niko too now that I think about it). Hilo took up social concerns and philanthropic causes, became more progressive and open-minded, and he did all of those things for Ru. So he could prove that he still loved his son. So Ru could be proud of him and the clan, even in the afterlife.
As for the other two kids, Niko and Jada, I thought Niko's development was very interesting and I wish we got more screen time for Jaya. I feel like Niko could've had his own coming of age story–Lan's son who was the heir of No Peak, but uninterested in power and the clan's dealings. The prodigal son who left the clan to find himself and who he would've been if Hilo hadn't taken him in, who became a mercenary to see the world outside of Kekon and jade, only to find that there was a darker wilderness, an equal brutality beyond the island he grew up on. And then his return.
If Lee ever decided to go back to write a novella or a full-length novel of Niko's life I'd devour it in a heartbeat. Or maybe spin-off saga for the new generation? I'm just desperately clinging onto this world because it's so phenomenal.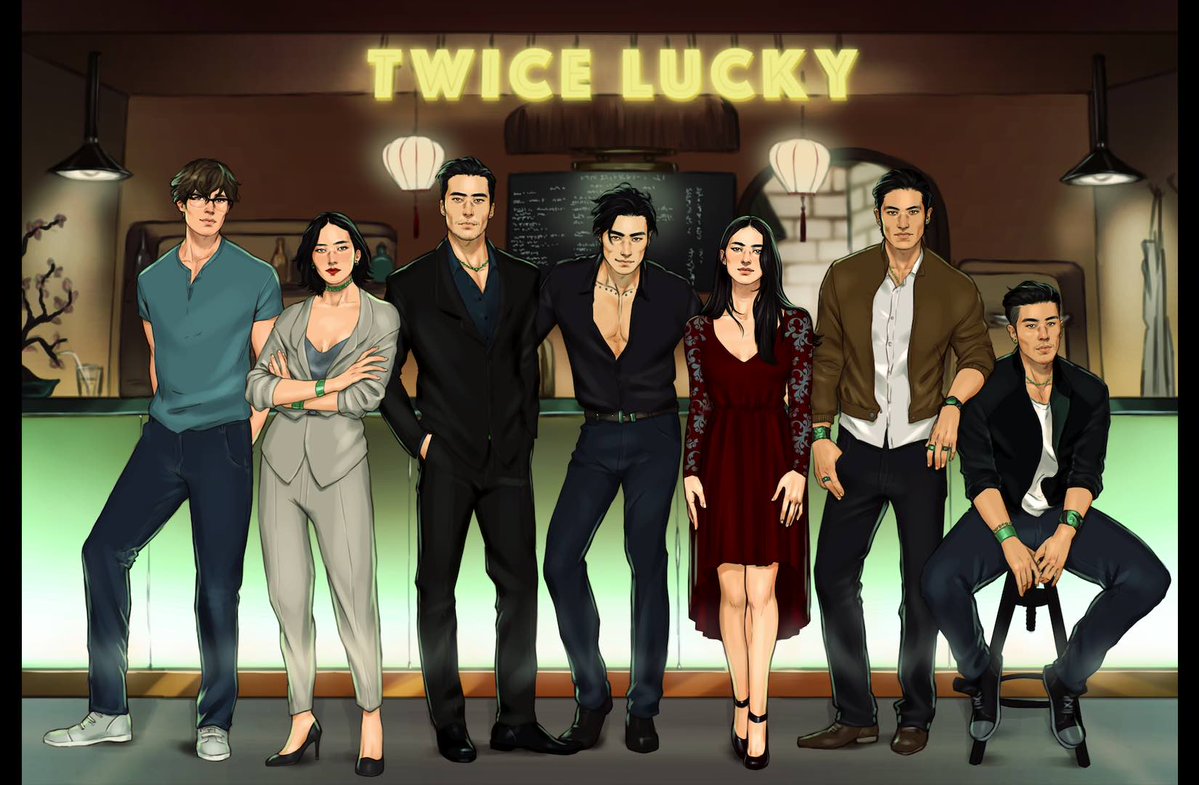 I think the MVP of this series was Anden. I must admit, I initially didn't care much for him in the first book, and almost skimmed over his slice of life scenes in the second book, but I'm glad I didn't because he had one of the best character developments. Pioneering the medical use of jade overseas, forging critical alliances in Espenia, all while sticking to his principles. Our cinnamon roll has grown so much.
Well, that's enough rambling from me. I'll end this review on a happier note, with a quote that made the empty cavern in my heart warm up ever so slightly.
---
If you've finished Jade Legacy, I'd love to hear your thoughts!